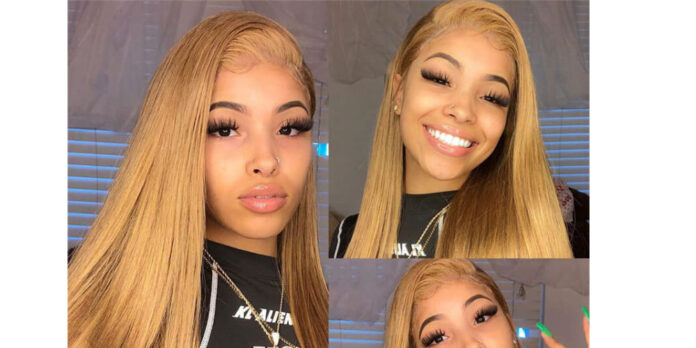 The honey blonde lace front wig requires special attention while handling it. Careless handling of the wig may contribute significantly to its damage. Therefore, you must handle the honey blonde wig with care. Handling of the wig involves the installation, uninstallation, and maintenance process. One of the main benefits of proper wig handling is that it will have prolonged longevity. If you wish to learn how to handle your wig, below are the necessary precautions.
1. Use a heat protectant spray on your honey blonde lace front wig
Most human hair wigs are extremely sensitive to heat. If you use high-power heat on them, there is a high chance that your wig will get damaged. Furthermore, too much heat can impact the texture of your wig. Therefore, if you wish to use your curling wand or flat iron, first ensure your wig is very dry. Then use the recommended wig's heat protectant spray. The spray will ensure that your wig does not incur too much damage from heating. You can also choose to consult with a specialist on the best protectant spray available in the market.
2. Be cautious about the type of product you apply to your wig
Some regular hair care products are not good for your wig. They may contain a lot of chemicals. The many chemicals present may alter your wig's shine and texture. Therefore, before you use a hair care product, ensure to research whether it is good for your wig. Also, you can choose to consult with a wig expert on the best type of product to introduce to your wig.
3. Use the right type of comb on your honey blonde lace front wig
The type of comb you use on your honey blonde lace front wig may impact its final appearance. For example, you cannot use thin-toothed combs on your wig. The comb may encourage wig tangling instead of removing the tangles. Therefore, you must know the type of combs to help your wig maintain its quality. Most wig experts recommend the wide-toothed combs.
4. Wear a wig cap before honey blonde lace front wig installation
You must ensure your natural hair is protected while wearing a wig. One of the ways to guarantee protection is by wearing a wig cap. The wig cap will ensure that you can tuck your hair firmly in place. Furthermore, it will ensure your natural hair has room for growth.
5. Do not install the wig when your natural hair is wet
There can be nothing as off-putting as a smelly wig. Furthermore, a smelly wig can ensure that people want to stay away from you. Therefore, one of the main precautions while handling a wig is not to wear it when damp. A damp wig encourages the formation of bacteria. It also ensures that your wig smells. Therefore, always wear your wig when it is dry.
6. Consult an expert
Wig experts usually have the best knowledge of how to handle a wig. They will ensure to offer you proper advice on how to take care of your wig effectively.
Conclusion
The honey blonde lace front wig requires proper care to stay in place. The proper care can guarantee that it has an increased life span. Therefore, ensure to read and adhere to the above precautions to ensure wig longevity.