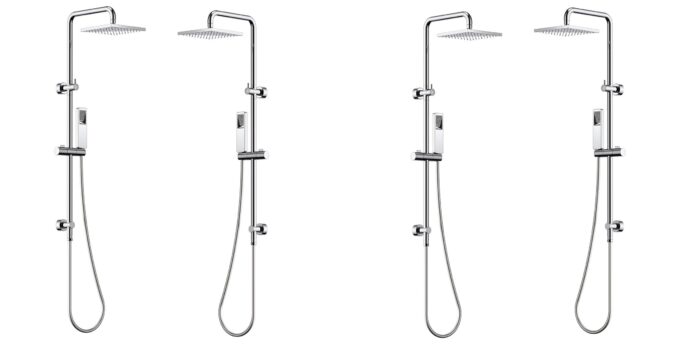 Anybody who wishes to personalize their bathroom have to go through several different types of shower heads before they choose one that suits them the best. Among all the different types of shower heads that are present in the market, one of the most popular shower heads are rail shower with overhead. Rail shower heads are usually a twin shower head where one of the shower heads are a ceiling or wall mounted fixed shower head and the other is a hand held shower head. This type of shower head gives a very luxurious and high end feeling to anybody who uses the bathroom and can be quite interesting thing to experience.
Places To Install Rail Showers With Overhead
With the elegant design, smooth finish and the amazing experience overall offered by the rail showers, they have been a popular shower head type that has been installed in the past few years. Here are the most commonly installed places for rail showers.
Hotels, Lounges & Accommodations
Hotels are one of the biggest parts of the travel experience. Everybody wishes to experience the best time when they are outside their general comfortable area of their houses. That is why, to ramp up the experience of travel and experience of trying new things, hotels, lounges and other places have installed rail showers in the past few years to give everyone that lavish and extravagant feeling.
Houses
After experiencing rail shower or learning about them, several people have installed rail shower in their houses. This has elevated their daily showering experience.
Features Of Rail Showers With Overhead
The features of the rail showers have been described in the following section to help readers learn about why they should consider picking these rail shower heads.
Durable & Long Lasting
These shower heads are made of materials that are durable and long lasting. Not only do these material last for decades, they also ensure that no type of fungal or bacterial growth happens under the surface that can put your or your loved one's health at risk.
Uses High Quality Alloys & Metal
Shower heads are made of stainless steel, brass, stainless steel and brass alloy as well as ABS plastic. These materials are high quality materials and are picked specifically to ensure that you get the perfect shower every time.
Can Resist Rust & Corrosion
Due to the wide range of materials used in making of these shower heads, one may wonder why so many materials are considered and the reason is because shower head companies ensure there is no corrosion and rust formation in the shower heads of your choice. By ensuring the quality and grade of the rust free and corrosion free product, you are promised the experience of a life time.
Smooth & Curvy Design
The design of the shower heads are very, very elegant, whether it is the wall mounted shower head or the hand held shower head. This is because with this smooth and elegant design, one can ensure proper safety and security of the users. The smooth and curved out edges ensure you do not end up getting a cut when you are showering
Adds Wonderful Appeal To The Bathrooms
With the elegancy and exquisite color grading, these shower heads give a luxurious feel to your bathroom, making the experience of showering joyous.
Conclusion
Declinko is the website that specializes in providing their customers with the perfect shower head of their choice. With their huge catalogue of different types and designs of shower heads, you get to pick and choose your favorite from the list presented to you. You also get a detailed description of all the features, warranties and details about your shower head on their website which makes it easier for you to choose. So what are you waiting for? Check out Declinko for your perfect shower head now!