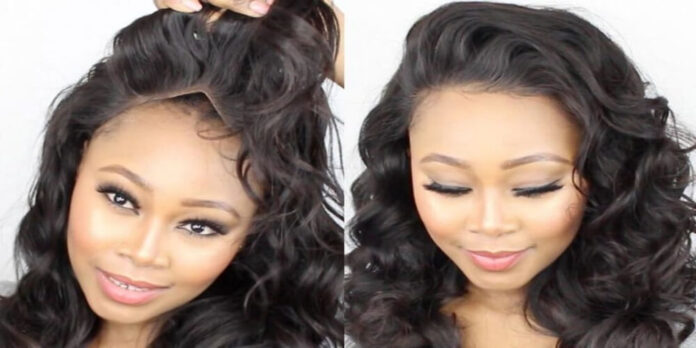 You might have heard the myth about how the lace front wig hinders your hairline. If you have had some experience with bad wigs before, it is easy to believe.
Lace front wigs are popular for their ability to create an illusion of a natural hairline. For many who wear wigs, it is a must-have.
The lace front wig provides users with extra confidence and the great feeling that comes with it. But does the lace front wig ruin your hairline? Do wigs cause damage to your hair?
Can Wigs Ruin Your Hair?
There are millions of wigs in the world. There are thousands of wig companies and suppliers all over the world.
When rumors like this come up, some of the wig users come out to talk about their experiences with using wigs.
Experts and wig users disagree with the rumor that wigs can damage your hair. Rather, the benefits of wearing wigs are many.
Wigs can help you cover your hair loss
Wigs create an opportunity for people in the wig community to experiment with different styles and colors. They can show their creativity through their hair.
Wigs help restore self-confidence.
Now that the fact has been established, wearing and removing your wig incorrectly can cause damage to your hair.
When you remove your wigs incorrectly it can also cause your hair to become brittle or dry. When you constantly wear your wig, it can have a bad effect.
Wearing your wig constantly can irritate your scalp. The irritation will make you very uncomfortable, and cause damage to your hair later on.
Your hair maintenance should be a priority to you. You should take care of your hair the same way you take care of your body and nails. Nurture it and watch it flourish.
But what about the myth that lace front wigs cause damage to your hairline? What can be said about lace front wigs?
Do Lace Front Wigs Ruin Your Hairline?
No. lace front wigs do not ruin your hairline. As earlier stated, wigs do not cause significant damage to your hairline. The lace front is also a wig.
If you have used a lace front wig and still felt like something wrong is happening to your hairline, you should consider something important.
You need to look into how to use your lace front wig. You should also check how you look after wearing your wig, then compare it with your natural hair.
If you still have the feeling, keep in mind that it is not the wig that is causing the problem. Your method of use might be the problem.
Method of use here refers to how you wear the wig, how you remove the wig, how you maintain the wig generally.
Your natural hairline is very delicate. The hair on the lines of the head is softer and not very flexible, unlike the hair on other parts of the head.
So, it is more likely to get ruined if not properly maintained. Your delicate hairline can become damaged easily.
Conclusion
Do not let the stories you hear about wigs ruining your hair stop you from exploring your skills of creativity and looking your best. Wigs will not hurt you.