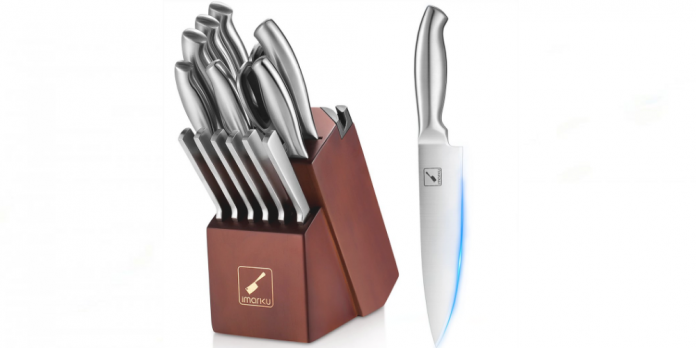 Over the last couple of decades, Japan has launched great products in almost all fields of life. Everyday kitchen tools are not an exception to that. When planning on replacing your old utensils with new ones, the best place to start is with the knife set. And Japanese knife sets are the best in the market as they feature sharp edges and are unique in their design.
IMarku stainless steel steak knives will instantly become your favorite the second you bring them into your kitchen tool collection. This Japanese knife set consists of 16 different knives, each for a specific purpose. The reason iMarku is among the top-selling brands when it comes to such products is that it is reasonably priced. For the quality they offer, iMarku knives are pretty affordable as well as long-lasting.
IMarku Japanese Knife Brand
The main objective of iMarku is to create a vast target audience. They manufacture knives that can be used by professional chefs, cooking experts, and the common public. They use German steel for extra durability with a pakkawood handle for a comfortable grip. The pakkawood is also known for its longevity and water-resistive properties.
The company claims to produce its knives in almost 45 days for extra sharpness and optimal performance in kitchen duties. However, they keep in mind the importance of aesthetics and comfort of the user while designing the knife set with a wooden block.
Pros Of Using The iMarku Japanese Knife Set
The complete knife set from the brand iMarku features 12 pieces, along with a wooden block. A great advantage when investing your money in the set is you get a free pair of scissors and a knife sharpener. This saves you some bucks you would otherwise be spending on buying these necessary accessories.
The knife blades are made using excellent quality stainless steel to keep the edges sharped for a more extended period than the regular knives. You also get a storage box of the same color as the knives' handles, thus maintaining aesthetics and providing safety.
With this Japanese knife set, you're cooking and serving the food due to the various types of knives included in the package. Some of these include a chef knife, a slicing knife, a bread knife, and six steak knives.
Uses Of Different Knives
There are seven different types of knives that the iMarku knife set features.
1. 8" and 6" chef knife
The chef knife is an all-rounder. It is capable of slicing, chopping, dicing, deboning, and filleting.
2. 8" slicing knife
These have long blades and can have either a pointed or round tip. They require less amount of force for precise slicing of fruits, vegetables, and even Thanksgiving turkey.
3. 8" bread knife
A bread knife consists of a long blade with edges that are serrated. This allows the user to slice through the bread pieces easily.
4. 7" santoku knife
Santoku knife is thinner than the chef's knife and allows for better dicing, chopping, and mincing.
5. 3" paring knife
These are similar to chef's knives but offer greater accuracy and detail in cutting.
6. 5" utility knife
Their blades are generally narrower than the chef's knife. The advantage of using this knife is you get better handling.
7. 5" steak knife
These are basically dinner knives and are highly convenient for cutting steak, chicken, etc.